Using this chart – Stoploss for intraday traders 15 Mins closing basis and positional traders one hour closing basis.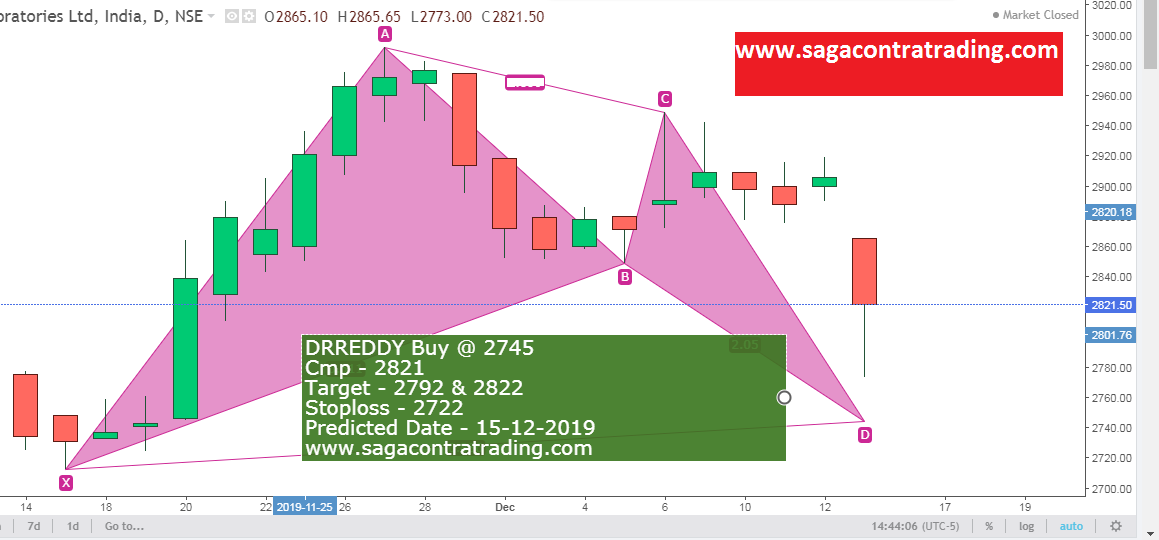 Nifty & Crudeoil – Individual Training on Prior Appointment
Equity Training Program on 14-12-2019 @ Office.
Makkal Tv Valagam Live Program on 07-01-2020 @9.00 Am
Is this Today (25-May-2018) Crudeoil crash has been predicted???? Yes we proudly say we predicted with exact date well in advance.I have enclosed the screenshot of our mails.One of our client made 10lacsProfit Today with our recommendation. Pls check.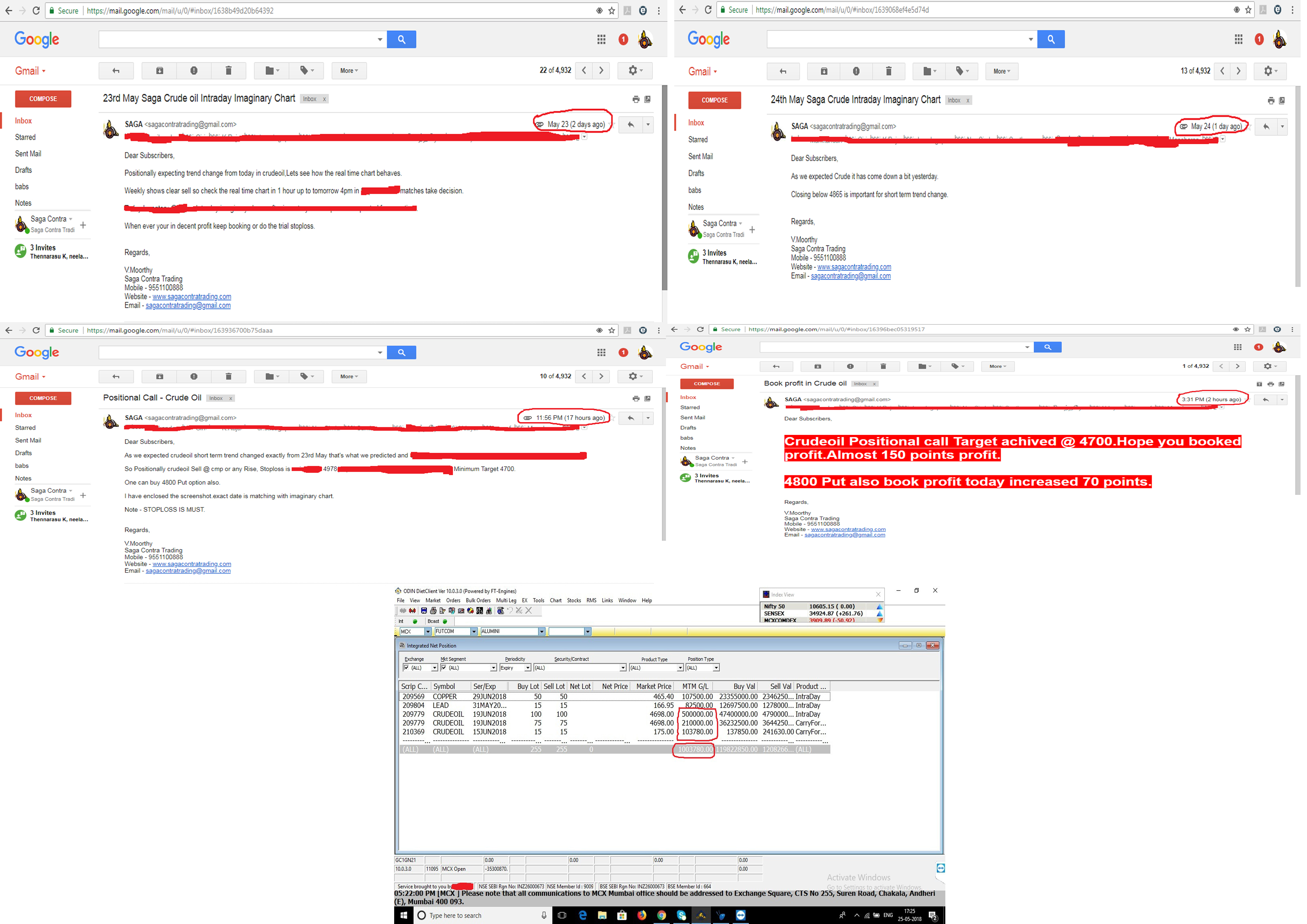 2017 Saga Contra Trading Equity Recommendations 
| | | | | | | |
| --- | --- | --- | --- | --- | --- | --- |
| sno | Date | Stocks | Price | Booked | On | % of return |
| 1 | 23-01-17 | Tv18brdcst | 36.4 | 39.8 | 06-02-17 | 9.34% |
| 2 | 25-01-17 | Acc | 1350 | 1450 | 02-02-17 | 7.41% |
| 3 | 31-01-17 | Orient cem | 136 | 146 | 03-02-17 | 7.35% |
| 4 | 31-01-17 | Anant raj | 42.9 | 46.5 | 02-02-17 | 8.39% |
| 5 | 06-02-17 | Fortis | 188 | 196 | 06-02-17 | 4.26% |
| 6 | 06-02-17 | Sun pharma | 645 | 689 | 07-02-17 | 6.82% |
| 7 | 06-02-17 | Auro Pharma | 680 | 714 | 07-02-17 | 5.00% |
| 8 | 17-02-17 | deltacorp | 115 | 132 | 21-02-17 | 14.78% |
| 9 | 14-03-17 | bob | 162 | 166 | 20-03-17 | 2.47% |
| 10 | 14-03-17 | Auro Pharma | 655 | 688 | 16-03-17 | 5.04% |
| 11 | 15-03-17 | Fortis | 179.5 | 185 | 20-03-17 | 3.06% |
| 12 | 24-03-17 | Icici bank | 270 | 283.3 | 30-03-17 | 4.91% |
| 13 | 29-03-17 | Fsl | 40.3 | 42.35 | 30-03-17 | 5.09% |
| 14 | 30-03-17 | Tv18brdcst | 41.9 | 44.6 | 03-04-17 | 6.44% |
| 15 | 05-04-17 | Auro Pharma | 620 | 625 | 12-05-17 | 0.81% |
| 16 | 06-04-17 | Idfc Bank | 59.8 | 62.25 | 07-04-17 | 4.10% |
| 17 | 11-05-17 | Lupin | 1263 | 1300 | 17-05-17 | 2.93% |
| 18 | 11-05-17 | Tata motors | 434 | 450 | 17-05-17 | 3.69% |
| 19 | 04-07-17 | Idfc bank | 54.6 | 63 | 06-07-17 | 15.38% |
| 20 | 28-07-17 | Fsl | 33 | 35.5 | 17-08-17 | 7.58% |
| 21 | 01-08-17 | Coal India | 250 | 265 | 18-09-17 | 6.00% |
| 22 | 04-08-17 | Orient cem | 154 | 163 | 06-09-17 | 5.84% |
| 23 | 10-08-17 | lupin | 920 | 1000 | 24-08-17 | 8.70% |
| 24 | 16-08-17 | Fortis | 150 | 167.9 | 29-12-17 | 11.93% |
| 25 | 23-08-17 | fsl | 33.6 | 39 | 30-08-17 | 16.07% |
| 26 | 23-08-17 | mcx | 994 | 1050 | 29-08-17 | 5.63% |
| 27 | 30-08-17 | rallis | 230 | 243.9 | 11-10-17 | 6.02% |
| 28 | 30-08-17 | idfc bank | 55.5 | 57.5 | 05-09-17 | 3.60% |
| 29 | 30-08-17 | Tata motors | 380 | 405 | 15-09-17 | 6.58% |
| 30 | 12-09-17 | Drreddy | 2165 | 2400 | 21-09-17 | 10.85% |
| 31 | 12-09-17 | idfc bank | 56.4 | 59.3 | 14-09-17 | 5.14% |
| 32 | 13-09-17 | Lupin | 985 | 1030 | 22-09-17 | 4.57% |
| 33 | 25-09-17 | Ongc | 161 | 176 | 26-06-17 | 9.32% |
| 34 | 26-09-17 | Orient cem | 151 | 159.4 | 11-10-17 | 5.53% |
| 35 | 28-09-17 | Lupin | 1000 | 1071 | 10-10-17 | 7.10% |
| 36 | 28-09-17 | Idfc Bank | 56.5 | 59.85 | 09-10-17 | 5.93% |
| 37 | 28-09-17 | Tata motors | 400 | 428 | 03-10-17 | 7.00% |
| 38 | 28-09-17 | mcx | 1020 | 1074 | 04-10-17 | 5.29% |
| 39 | 28-09-17 | Tv18brdcst | 38.5 | 40.85 | 05-10-17 | 6.10% |
| 40 | 28-09-17 | Icici prulife | 390 | 415 | 03-10-17 | 6.41% |
| 41 | 28-09-17 | Anant raj | 53 | 56.2 | 03-10-17 | 6.04% |
| 42 | 28-09-17 | Itc | 259.5 | 272.8 | 23-10-17 | 5.11% |
| 43 | 06-10-17 | Ncc | 83.5 | 87.55 | 06-10-17 | 4.85% |
| 44 | 06-10-17 | Relinfra | 470 | 494 | 10-10-17 | 5.11% |
| 45 | 16-10-17 | Fsl | 40 | 44 | 31-10-17 | 10.00% |
| 46 | 16-10-17 | Orient cem | 155 | 175 | 30-10-17 | 12.90% |
| 47 | 27-10-17 | Icici prulife | 389 | 409 | 30-10-17 | 5.14% |
| 48 | 27-10-17 | Lupin | 1000 | 1090 | 30-10-17 | 9.00% |
| 49 | 06-11-17 | Aban | 208 | 232 | 07-11-17 | 11.54% |
| 50 | 06-11-17 | Lakshmivillasbank | 160 | 174 | 20-11-17 | 8.75% |
| 51 | 06-11-17 | Relinfra | 480 | 528.8 | 21-12-17 | 10.16% |
| 52 | 07-11-17 | Rallis | 238 | 258 | 28-11-17 | 8.40% |
| 53 | 14-11-17 | Lupin | 830 | 876 | 19-12-17 | 5.54% |
| 54 | 14-11-17 | Gppl | 134 | 143.5 | 21-11-17 | 7.09% |
| 55 | 14-11-17 | Gokul Agro | 25.5 | 29.4 | 22-11-17 | 15.29% |
| 56 | 16-11-17 | Orient cem | 156 | 166 | 20-11-17 | 6.41% |
| 57 | 16-11-17 | Coal India | 268 | 282 | 21-11-17 | 5.22% |
| 58 | 17-11-17 | Gsfc | 137 | 144 | 23-11-17 | 5.11% |
| 59 | 17-11-17 | Anant raj | 55.75 | 59.7 | 20-11-17 | 7.09% |
| 60 | 17-11-17 | Maninfra | 61 | 64.65 | 21-11-17 | 5.98% |
| 61 | 17-11-17 | Rallis | 228 | 248 | 28-11-17 | 8.77% |
| 62 | 20-11-17 | Ongc | 178.7 | 197.2 | 26-12-17 | 10.32% |
| 63 | 20-11-17 | Atfl | 532 | 631 | 30-11-17 | 18.61% |
| 64 | 27-11-17 | Gsfc | 142.5 | 151.4 | 21-12-17 | 6.25% |
| 65 | 04-12-17 | pfc | 118.6 | 125.5 | 20-12-17 | 5.82% |
| 66 | 04-12-17 | Rec | 152.5 | 160.4 | 01-01-18 | 5.18% |
| 67 | 04-12-17 | Icici prulife | 368 | 397.9 | 19-12-17 | 8.13% |
| 68 | 14-12-17 | Kwality | 105 | 116.5 | 29-12-17 | 10.95% |
| 69 | 19-12-17 | Orient cem | 160 | 170 | 21-12-17 | 6.25% |
| 70 | 28-12-17 | Ht media | 97.75 | 103.8 | 29-12-17 | 6.19% |
| | | Total Profit | | | | 509.67% |
2016 Saga Contra Trading Equity Recommendations
| | | | | | | |
| --- | --- | --- | --- | --- | --- | --- |
| sno | Date | Stocks | Price | Booked | On | Percentage of Return |
| 1 | 12-01-16 | Lt | 1180 | 1245 | 22-03-16 | 5% |
| 2 | 12-01-16 | Adani Ports | 234 | 250 | 31-03-16 | 6% |
| 3 | 12-01-16 | Union bank | 128 | 139 | 08-02-16 | 8% |
| 4 | 12-01-16 | Glenmark | 846 | 876 | 14-01-16 | 3% |
| 5 | 12-01-16 | Bob | 138 | 146 | 18-02-16 | 5% |
| 6 | 18-01-16 | Pfc | 171 | 186 | 08-02-16 | 8% |
| 7 | 25-01-16 | Nmdc | 81 | 85 | 05-02-16 | 4% |
| 8 | 25-01-16 | Vedl | 66 | 72 | 01-02-16 | 9% |
| 9 | 25-01-16 | Siemens | 1013 | 1065 | 04-02-16 | 5% |
| 10 | 25-01-16 | Adani Ports | 223 | 250 | 31-03-16 | 12% |
| 11 | 29-01-16 | Sun tv | 355 | 384 | 01-02-16 | 8% |
| 12 | 29-01-16 | Relinfra | 455 | 475 | 01-02-16 | 4% |
| 13 | 29-01-16 | Adani Ent | 72 | 77 | 08-02-16 | 6% |
| 14 | 01-02-16 | Acc | 1240 | 1280 | 02-02-16 | 3% |
| 15 | 02-02-16 | Nmdc | 80 | 85 | 05-02-16 | 6% |
| 16 | 02-02-16 | Rec | 190 | 199 | 08-02-16 | 4% |
| 17 | 02-02-16 | Siemens | 1036 | 1068 | 08-02-16 | 3% |
| 18 | 02-02-16 | Lt | 1120 | 1157 | 08-02-16 | 3% |
| 19 | 04-02-16 | Lichf | 432 | 452 | 08-02-16 | 4% |
| 20 | 12-02-16 | Hdfc bank | 979 | 996 | 22-02-16 | 2% |
| 21 | 12-02-16 | Icici bank | 197 | 207 | 16-02-16 | 5% |
| 22 | 12-02-16 | Relinfra | 408 | 432 | 15-02-16 | 5% |
| 23 | 12-02-16 | Bharti | 315 | 330 | 16-02-16 | 4% |
| 24 | 12-02-16 | Axis bank | 390 | 420 | 16-02-16 | 7% |
| 25 | 12-02-16 | Sbin | 156 | 170 | 16-02-16 | 8% |
| 26 | 12-02-16 | Canbk | 175 | 185 | 15-02-16 | 5% |
| 27 | 12-02-16 | Lichf | 410 | 430 | 15-02-16 | 4% |
| 28 | 12-02-16 | Relinfra | 400 | 500 | 09-03-16 | 25% |
| 29 | 12-02-16 | Axis bank | 390 | 500 | 12-05-16 | 28% |
| 30 | 12-02-16 | Sbin | 156 | 200 | 25-04-16 | 28% |
| 31 | 12-02-16 | Canbk | 175 | 200 | 04-04-16 | 14% |
| 32 | 16-02-16 | Techm | 420 | 440 | 19-02-16 | 4% |
| 33 | 16-02-16 | Beml | 980 | 1052 | 23-02-16 | 7% |
| 34 | 16-02-16 | Hdfc bank | 981 | 1024 | 04-03-16 | 4% |
| 35 | 16-02-16 | Hdfc | 1084 | 1150 | 08-03-16 | 6% |
| 36 | 16-02-16 | Bhel | 109 | 117 | 23-03-16 | 7% |
| 37 | 16-02-16 | Adaniports | 195 | 215 | 18-02-16 | 10% |
| 38 | 16-02-16 | Wockpharma | 765 | 890 | 02-03-16 | 16% |
| 39 | 16-02-16 | Bhel | 109 | 135 | 13-04-16 | 23% |
| 40 | 25-02-16 | Axis bank | 386 | 415 | 03-03-16 | 7% |
| 41 | 25-02-16 | Canbk | 164 | 185 | 04-03-16 | 12% |
| 42 | 25-02-16 | Relinfra | 415 | 460 | 03-03-16 | 10% |
| 43 | 25-02-16 | Lichf | 398 | 440 | 01-03-16 | 10% |
| 44 | 01-03-16 | Dhfl | 157 | 169 | 03-03-16 | 7% |
| 45 | 01-03-16 | Rec | 167 | 174 | 03-03-16 | 4% |
| 46 | 02-03-16 | Lichf | 445 | 465 | 10-03-16 | 4% |
| 47 | 02-03-16 | Relinfra | 435 | 480 | 08-03-16 | 10% |
| 48 | 02-03-16 | Canbk | 175 | 185 | 04-03-16 | 5% |
| 49 | 02-03-16 | Axis bank | 400 | 420 | 08-03-16 | 5% |
| 50 | 14-03-16 | Idea | 103 | 115 | 31-03-16 | 11% |
| 51 | 05-04-16 | Lupin | 1465 | 1550 | 08-04-16 | 5% |
| 52 | 05-04-16 | Drreddy | 3000 | 3060 | 08-04-16 | 2% |
| 53 | 12-04-16 | Tv18brdcst | 36.5 | 40 | 20-04-16 | 9% |
| 54 | 20-04-16 | Coal India | 278 | 288 | 22-04-16 | 3% |
| 55 | 26-04-16 | Lichf | 455 | 472 | 13-05-16 | 3% |
| 56 | 06-05-16 | Tv18brdcst | 37 | 41.5 | 13-05-16 | 12% |
| 57 | 09-05-16 | Idfc | 46.75 | 59 | 08-08-16 | 26% |
| 58 | 24-05-16 | Lichf | 434 | 460 | 27-05-16 | 5% |
| 59 | 01-06-16 | Lupin | 1480 | 1548 | 29-05-16 | 5% |
| 60 | 03-06-16 | Canbk | 190 | 215 | 22-05-16 | 13% |
| 61 | 08-06-16 | Sun Pharma | 735 | 775 | 28-06-16 | 5% |
| 62 | 14-06-16 | Dhfl | 203 | 249 | 08-08-16 | 22% |
| 63 | 14-06-16 | Tv18brdcst | 40.5 | 47 | 12-07-16 | 16% |
| 64 | 16-06-16 | Idea | 100 | 105 | 30-06-16 | 5% |
| 65 | 12-07-16 | Ashokleyand | 92 | 97.4 | 22-07-16 | 5% |
| 66 | 04-08-16 | Ncc | 76.5 | 81 | 10-08-16 | 5% |
| 67 | 05-08-16 | Icici bank | 244.5 | 256.9 | 30-08-16 | 5% |
| 68 | 05-08-16 | Ashokleyand | 86.5 | 90.9 | 10-08-16 | 5% |
| 69 | 05-08-16 | Bhel | 135 | 141.8 | 08-08-16 | 5% |
| 70 | 05-08-16 | Ceat | 850 | 900 | 08-08-16 | 5% |
| 71 | 16-08-16 | Idea | 94 | 100 | 23-08-16 | 5% |
| 72 | 16-08-16 | Godrejind | 405 | 418 | 19-08-16 | 3% |
| 73 | 18-08-16 | Obc | 117 | 124 | 30-08-16 | 5% |
| 74 | 23-08-16 | Wockpharma | 785 | 830 | 24-08-16 | 5% |
| 75 | 23-08-16 | Sintex | 73.5 | 76.9 | 01-09-16 | 5% |
| 76 | 24-08-16 | Sun Pharma | 765 | 809.75 | 08-09-16 | 5% |
| 77 | 24-08-16 | Star | 960 | 1110 | 09-09-16 | 5% |
| 78 | 25-08-16 | Ashokleyand | 88 | 92.5 | 01-11-16 | 5% |
| 79 | 30-08-16 | Wockpharma | 825 | 883.4 | 08-09-16 | 5% |
| 80 | 06-09-16 | Adanienterprise | 71.6 | 74.9 | 09-09-16 | 5% |
| 81 | 20-09-16 | Adanienterprise | 70.5 | 74.6 | 19-12-16 | 5% |
| 82 | 21-09-16 | Nmdc | 103 | 110 | 29-09-16 | 5% |
| 83 | 28-09-16 | Magma fincorp | 103 | 110 | 30-09-16 | 5% |
| 84 | 18-10-16 | Tv18brdcst | 43.5 | 45.85 | 24-10-16 | 5% |
| 85 | 18-10-16 | Ncc | 81 | 91 | 21-10-16 | 5% |
| 86 | 27-10-16 | Axis bank | 485 | 513.6 | 10-11-16 | 5% |
| 87 | 08-11-16 | Magma fincorp | 103.5 | 108.9 | 10-11-16 | 5% |
| 88 | 08-11-16 | Obc | 116 | 127 | 10-11-16 | 5% |
| 89 | 16-11-16 | Idea | 72 | 76.4 | 28-11-16 | 5% |
| 90 | 25-11-16 | Tv18brdcst | 35.6 | 39.2 | 09-12-16 | 5% |
| 91 | 25-11-16 | Ncc | 74 | 80 | 29-11-16 | 5% |
| 92 | 01-12-16 | Ongc | 295 | 310 | 12-12-16 | 5% |
| 93 | 28-12-16 | Idea | 70.1 | 74.5 | 30-12-16 | 5% |
| 94 | 28-12-16 | Auro Pharma | 642 | 674 | 30-12-16 | 5% |
| 95 | 28-12-16 | deltacorp | 97 | 110 | 29-12-16 | 14% |
| | | TOTAL |   |   |   | 696% |
2016 Saga Contra Trading Equity Recommendations