Nifty & Crudeoil – Individual Training on Prior Appointment
Equity Training Program on 05-10-2019 @ Office.
Makkal Tv Valagam Live Program on 05-11-2019 @9.00 Am
Is this Today (25-May-2018) Crudeoil crash has been predicted???? Yes we proudly say we predicted with exact date well in advance.I have enclosed the screenshot of our mails.One of our client made 10lacsProfit Today with our recommendation. Pls check.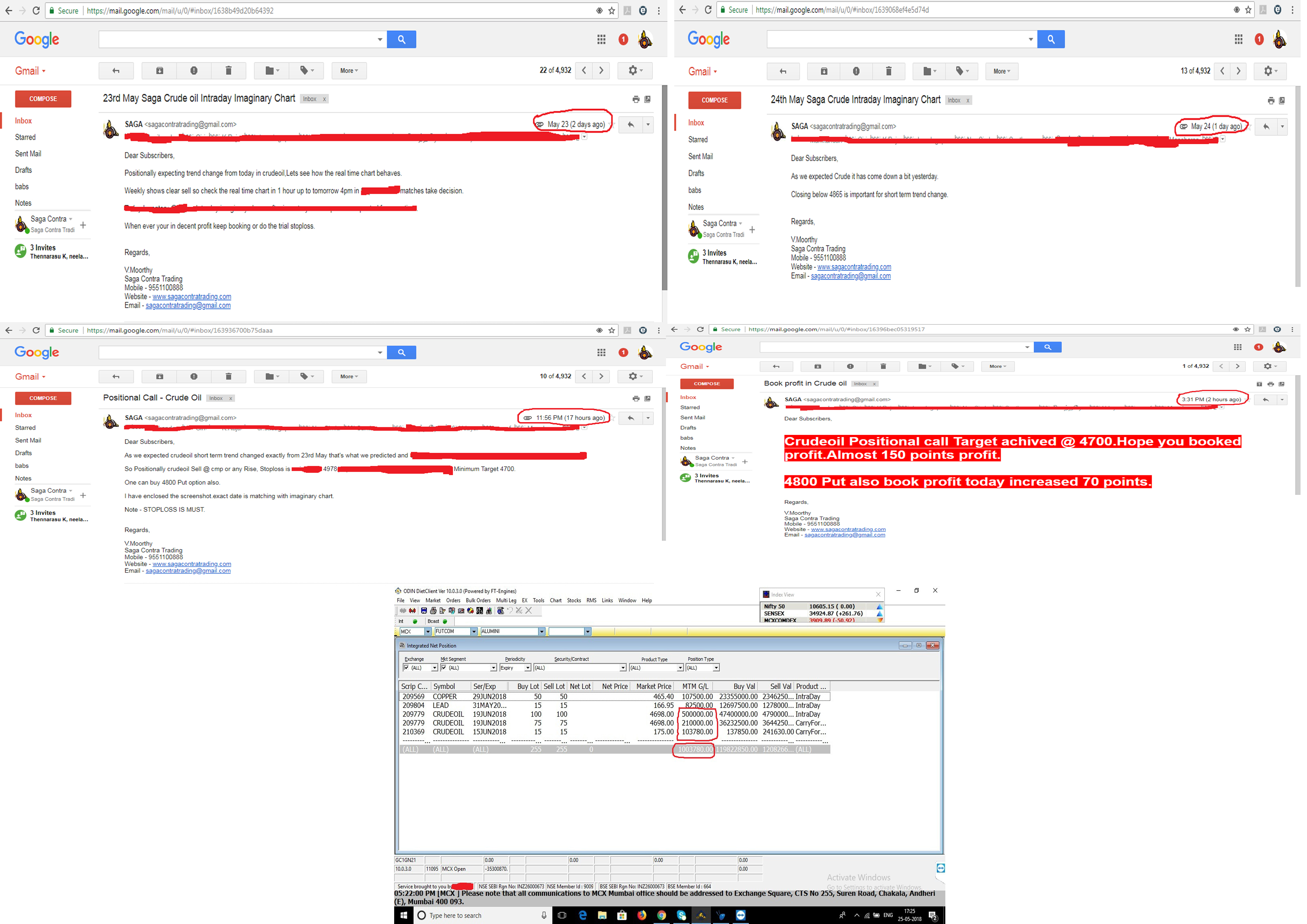 2017 Saga Contra Trading Equity Recommendations 
| | | | | | | |
| --- | --- | --- | --- | --- | --- | --- |
| sno | Date | Stocks | Price | Booked | On | % of return |
| 1 | 23-01-17 | Tv18brdcst | 36.4 | 39.8 | 06-02-17 | 9.34% |
| 2 | 25-01-17 | Acc | 1350 | 1450 | 02-02-17 | 7.41% |
| 3 | 31-01-17 | Orient cem | 136 | 146 | 03-02-17 | 7.35% |
| 4 | 31-01-17 | Anant raj | 42.9 | 46.5 | 02-02-17 | 8.39% |
| 5 | 06-02-17 | Fortis | 188 | 196 | 06-02-17 | 4.26% |
| 6 | 06-02-17 | Sun pharma | 645 | 689 | 07-02-17 | 6.82% |
| 7 | 06-02-17 | Auro Pharma | 680 | 714 | 07-02-17 | 5.00% |
| 8 | 17-02-17 | deltacorp | 115 | 132 | 21-02-17 | 14.78% |
| 9 | 14-03-17 | bob | 162 | 166 | 20-03-17 | 2.47% |
| 10 | 14-03-17 | Auro Pharma | 655 | 688 | 16-03-17 | 5.04% |
| 11 | 15-03-17 | Fortis | 179.5 | 185 | 20-03-17 | 3.06% |
| 12 | 24-03-17 | Icici bank | 270 | 283.3 | 30-03-17 | 4.91% |
| 13 | 29-03-17 | Fsl | 40.3 | 42.35 | 30-03-17 | 5.09% |
| 14 | 30-03-17 | Tv18brdcst | 41.9 | 44.6 | 03-04-17 | 6.44% |
| 15 | 05-04-17 | Auro Pharma | 620 | 625 | 12-05-17 | 0.81% |
| 16 | 06-04-17 | Idfc Bank | 59.8 | 62.25 | 07-04-17 | 4.10% |
| 17 | 11-05-17 | Lupin | 1263 | 1300 | 17-05-17 | 2.93% |
| 18 | 11-05-17 | Tata motors | 434 | 450 | 17-05-17 | 3.69% |
| 19 | 04-07-17 | Idfc bank | 54.6 | 63 | 06-07-17 | 15.38% |
| 20 | 28-07-17 | Fsl | 33 | 35.5 | 17-08-17 | 7.58% |
| 21 | 01-08-17 | Coal India | 250 | 265 | 18-09-17 | 6.00% |
| 22 | 04-08-17 | Orient cem | 154 | 163 | 06-09-17 | 5.84% |
| 23 | 10-08-17 | lupin | 920 | 1000 | 24-08-17 | 8.70% |
| 24 | 16-08-17 | Fortis | 150 | 167.9 | 29-12-17 | 11.93% |
| 25 | 23-08-17 | fsl | 33.6 | 39 | 30-08-17 | 16.07% |
| 26 | 23-08-17 | mcx | 994 | 1050 | 29-08-17 | 5.63% |
| 27 | 30-08-17 | rallis | 230 | 243.9 | 11-10-17 | 6.02% |
| 28 | 30-08-17 | idfc bank | 55.5 | 57.5 | 05-09-17 | 3.60% |
| 29 | 30-08-17 | Tata motors | 380 | 405 | 15-09-17 | 6.58% |
| 30 | 12-09-17 | Drreddy | 2165 | 2400 | 21-09-17 | 10.85% |
| 31 | 12-09-17 | idfc bank | 56.4 | 59.3 | 14-09-17 | 5.14% |
| 32 | 13-09-17 | Lupin | 985 | 1030 | 22-09-17 | 4.57% |
| 33 | 25-09-17 | Ongc | 161 | 176 | 26-06-17 | 9.32% |
| 34 | 26-09-17 | Orient cem | 151 | 159.4 | 11-10-17 | 5.53% |
| 35 | 28-09-17 | Lupin | 1000 | 1071 | 10-10-17 | 7.10% |
| 36 | 28-09-17 | Idfc Bank | 56.5 | 59.85 | 09-10-17 | 5.93% |
| 37 | 28-09-17 | Tata motors | 400 | 428 | 03-10-17 | 7.00% |
| 38 | 28-09-17 | mcx | 1020 | 1074 | 04-10-17 | 5.29% |
| 39 | 28-09-17 | Tv18brdcst | 38.5 | 40.85 | 05-10-17 | 6.10% |
| 40 | 28-09-17 | Icici prulife | 390 | 415 | 03-10-17 | 6.41% |
| 41 | 28-09-17 | Anant raj | 53 | 56.2 | 03-10-17 | 6.04% |
| 42 | 28-09-17 | Itc | 259.5 | 272.8 | 23-10-17 | 5.11% |
| 43 | 06-10-17 | Ncc | 83.5 | 87.55 | 06-10-17 | 4.85% |
| 44 | 06-10-17 | Relinfra | 470 | 494 | 10-10-17 | 5.11% |
| 45 | 16-10-17 | Fsl | 40 | 44 | 31-10-17 | 10.00% |
| 46 | 16-10-17 | Orient cem | 155 | 175 | 30-10-17 | 12.90% |
| 47 | 27-10-17 | Icici prulife | 389 | 409 | 30-10-17 | 5.14% |
| 48 | 27-10-17 | Lupin | 1000 | 1090 | 30-10-17 | 9.00% |
| 49 | 06-11-17 | Aban | 208 | 232 | 07-11-17 | 11.54% |
| 50 | 06-11-17 | Lakshmivillasbank | 160 | 174 | 20-11-17 | 8.75% |
| 51 | 06-11-17 | Relinfra | 480 | 528.8 | 21-12-17 | 10.16% |
| 52 | 07-11-17 | Rallis | 238 | 258 | 28-11-17 | 8.40% |
| 53 | 14-11-17 | Lupin | 830 | 876 | 19-12-17 | 5.54% |
| 54 | 14-11-17 | Gppl | 134 | 143.5 | 21-11-17 | 7.09% |
| 55 | 14-11-17 | Gokul Agro | 25.5 | 29.4 | 22-11-17 | 15.29% |
| 56 | 16-11-17 | Orient cem | 156 | 166 | 20-11-17 | 6.41% |
| 57 | 16-11-17 | Coal India | 268 | 282 | 21-11-17 | 5.22% |
| 58 | 17-11-17 | Gsfc | 137 | 144 | 23-11-17 | 5.11% |
| 59 | 17-11-17 | Anant raj | 55.75 | 59.7 | 20-11-17 | 7.09% |
| 60 | 17-11-17 | Maninfra | 61 | 64.65 | 21-11-17 | 5.98% |
| 61 | 17-11-17 | Rallis | 228 | 248 | 28-11-17 | 8.77% |
| 62 | 20-11-17 | Ongc | 178.7 | 197.2 | 26-12-17 | 10.32% |
| 63 | 20-11-17 | Atfl | 532 | 631 | 30-11-17 | 18.61% |
| 64 | 27-11-17 | Gsfc | 142.5 | 151.4 | 21-12-17 | 6.25% |
| 65 | 04-12-17 | pfc | 118.6 | 125.5 | 20-12-17 | 5.82% |
| 66 | 04-12-17 | Rec | 152.5 | 160.4 | 01-01-18 | 5.18% |
| 67 | 04-12-17 | Icici prulife | 368 | 397.9 | 19-12-17 | 8.13% |
| 68 | 14-12-17 | Kwality | 105 | 116.5 | 29-12-17 | 10.95% |
| 69 | 19-12-17 | Orient cem | 160 | 170 | 21-12-17 | 6.25% |
| 70 | 28-12-17 | Ht media | 97.75 | 103.8 | 29-12-17 | 6.19% |
| | | Total Profit | | | | 509.67% |
2016 Saga Contra Trading Equity Recommendations
| | | | | | | |
| --- | --- | --- | --- | --- | --- | --- |
| sno | Date | Stocks | Price | Booked | On | Percentage of Return |
| 1 | 12-01-16 | Lt | 1180 | 1245 | 22-03-16 | 5% |
| 2 | 12-01-16 | Adani Ports | 234 | 250 | 31-03-16 | 6% |
| 3 | 12-01-16 | Union bank | 128 | 139 | 08-02-16 | 8% |
| 4 | 12-01-16 | Glenmark | 846 | 876 | 14-01-16 | 3% |
| 5 | 12-01-16 | Bob | 138 | 146 | 18-02-16 | 5% |
| 6 | 18-01-16 | Pfc | 171 | 186 | 08-02-16 | 8% |
| 7 | 25-01-16 | Nmdc | 81 | 85 | 05-02-16 | 4% |
| 8 | 25-01-16 | Vedl | 66 | 72 | 01-02-16 | 9% |
| 9 | 25-01-16 | Siemens | 1013 | 1065 | 04-02-16 | 5% |
| 10 | 25-01-16 | Adani Ports | 223 | 250 | 31-03-16 | 12% |
| 11 | 29-01-16 | Sun tv | 355 | 384 | 01-02-16 | 8% |
| 12 | 29-01-16 | Relinfra | 455 | 475 | 01-02-16 | 4% |
| 13 | 29-01-16 | Adani Ent | 72 | 77 | 08-02-16 | 6% |
| 14 | 01-02-16 | Acc | 1240 | 1280 | 02-02-16 | 3% |
| 15 | 02-02-16 | Nmdc | 80 | 85 | 05-02-16 | 6% |
| 16 | 02-02-16 | Rec | 190 | 199 | 08-02-16 | 4% |
| 17 | 02-02-16 | Siemens | 1036 | 1068 | 08-02-16 | 3% |
| 18 | 02-02-16 | Lt | 1120 | 1157 | 08-02-16 | 3% |
| 19 | 04-02-16 | Lichf | 432 | 452 | 08-02-16 | 4% |
| 20 | 12-02-16 | Hdfc bank | 979 | 996 | 22-02-16 | 2% |
| 21 | 12-02-16 | Icici bank | 197 | 207 | 16-02-16 | 5% |
| 22 | 12-02-16 | Relinfra | 408 | 432 | 15-02-16 | 5% |
| 23 | 12-02-16 | Bharti | 315 | 330 | 16-02-16 | 4% |
| 24 | 12-02-16 | Axis bank | 390 | 420 | 16-02-16 | 7% |
| 25 | 12-02-16 | Sbin | 156 | 170 | 16-02-16 | 8% |
| 26 | 12-02-16 | Canbk | 175 | 185 | 15-02-16 | 5% |
| 27 | 12-02-16 | Lichf | 410 | 430 | 15-02-16 | 4% |
| 28 | 12-02-16 | Relinfra | 400 | 500 | 09-03-16 | 25% |
| 29 | 12-02-16 | Axis bank | 390 | 500 | 12-05-16 | 28% |
| 30 | 12-02-16 | Sbin | 156 | 200 | 25-04-16 | 28% |
| 31 | 12-02-16 | Canbk | 175 | 200 | 04-04-16 | 14% |
| 32 | 16-02-16 | Techm | 420 | 440 | 19-02-16 | 4% |
| 33 | 16-02-16 | Beml | 980 | 1052 | 23-02-16 | 7% |
| 34 | 16-02-16 | Hdfc bank | 981 | 1024 | 04-03-16 | 4% |
| 35 | 16-02-16 | Hdfc | 1084 | 1150 | 08-03-16 | 6% |
| 36 | 16-02-16 | Bhel | 109 | 117 | 23-03-16 | 7% |
| 37 | 16-02-16 | Adaniports | 195 | 215 | 18-02-16 | 10% |
| 38 | 16-02-16 | Wockpharma | 765 | 890 | 02-03-16 | 16% |
| 39 | 16-02-16 | Bhel | 109 | 135 | 13-04-16 | 23% |
| 40 | 25-02-16 | Axis bank | 386 | 415 | 03-03-16 | 7% |
| 41 | 25-02-16 | Canbk | 164 | 185 | 04-03-16 | 12% |
| 42 | 25-02-16 | Relinfra | 415 | 460 | 03-03-16 | 10% |
| 43 | 25-02-16 | Lichf | 398 | 440 | 01-03-16 | 10% |
| 44 | 01-03-16 | Dhfl | 157 | 169 | 03-03-16 | 7% |
| 45 | 01-03-16 | Rec | 167 | 174 | 03-03-16 | 4% |
| 46 | 02-03-16 | Lichf | 445 | 465 | 10-03-16 | 4% |
| 47 | 02-03-16 | Relinfra | 435 | 480 | 08-03-16 | 10% |
| 48 | 02-03-16 | Canbk | 175 | 185 | 04-03-16 | 5% |
| 49 | 02-03-16 | Axis bank | 400 | 420 | 08-03-16 | 5% |
| 50 | 14-03-16 | Idea | 103 | 115 | 31-03-16 | 11% |
| 51 | 05-04-16 | Lupin | 1465 | 1550 | 08-04-16 | 5% |
| 52 | 05-04-16 | Drreddy | 3000 | 3060 | 08-04-16 | 2% |
| 53 | 12-04-16 | Tv18brdcst | 36.5 | 40 | 20-04-16 | 9% |
| 54 | 20-04-16 | Coal India | 278 | 288 | 22-04-16 | 3% |
| 55 | 26-04-16 | Lichf | 455 | 472 | 13-05-16 | 3% |
| 56 | 06-05-16 | Tv18brdcst | 37 | 41.5 | 13-05-16 | 12% |
| 57 | 09-05-16 | Idfc | 46.75 | 59 | 08-08-16 | 26% |
| 58 | 24-05-16 | Lichf | 434 | 460 | 27-05-16 | 5% |
| 59 | 01-06-16 | Lupin | 1480 | 1548 | 29-05-16 | 5% |
| 60 | 03-06-16 | Canbk | 190 | 215 | 22-05-16 | 13% |
| 61 | 08-06-16 | Sun Pharma | 735 | 775 | 28-06-16 | 5% |
| 62 | 14-06-16 | Dhfl | 203 | 249 | 08-08-16 | 22% |
| 63 | 14-06-16 | Tv18brdcst | 40.5 | 47 | 12-07-16 | 16% |
| 64 | 16-06-16 | Idea | 100 | 105 | 30-06-16 | 5% |
| 65 | 12-07-16 | Ashokleyand | 92 | 97.4 | 22-07-16 | 5% |
| 66 | 04-08-16 | Ncc | 76.5 | 81 | 10-08-16 | 5% |
| 67 | 05-08-16 | Icici bank | 244.5 | 256.9 | 30-08-16 | 5% |
| 68 | 05-08-16 | Ashokleyand | 86.5 | 90.9 | 10-08-16 | 5% |
| 69 | 05-08-16 | Bhel | 135 | 141.8 | 08-08-16 | 5% |
| 70 | 05-08-16 | Ceat | 850 | 900 | 08-08-16 | 5% |
| 71 | 16-08-16 | Idea | 94 | 100 | 23-08-16 | 5% |
| 72 | 16-08-16 | Godrejind | 405 | 418 | 19-08-16 | 3% |
| 73 | 18-08-16 | Obc | 117 | 124 | 30-08-16 | 5% |
| 74 | 23-08-16 | Wockpharma | 785 | 830 | 24-08-16 | 5% |
| 75 | 23-08-16 | Sintex | 73.5 | 76.9 | 01-09-16 | 5% |
| 76 | 24-08-16 | Sun Pharma | 765 | 809.75 | 08-09-16 | 5% |
| 77 | 24-08-16 | Star | 960 | 1110 | 09-09-16 | 5% |
| 78 | 25-08-16 | Ashokleyand | 88 | 92.5 | 01-11-16 | 5% |
| 79 | 30-08-16 | Wockpharma | 825 | 883.4 | 08-09-16 | 5% |
| 80 | 06-09-16 | Adanienterprise | 71.6 | 74.9 | 09-09-16 | 5% |
| 81 | 20-09-16 | Adanienterprise | 70.5 | 74.6 | 19-12-16 | 5% |
| 82 | 21-09-16 | Nmdc | 103 | 110 | 29-09-16 | 5% |
| 83 | 28-09-16 | Magma fincorp | 103 | 110 | 30-09-16 | 5% |
| 84 | 18-10-16 | Tv18brdcst | 43.5 | 45.85 | 24-10-16 | 5% |
| 85 | 18-10-16 | Ncc | 81 | 91 | 21-10-16 | 5% |
| 86 | 27-10-16 | Axis bank | 485 | 513.6 | 10-11-16 | 5% |
| 87 | 08-11-16 | Magma fincorp | 103.5 | 108.9 | 10-11-16 | 5% |
| 88 | 08-11-16 | Obc | 116 | 127 | 10-11-16 | 5% |
| 89 | 16-11-16 | Idea | 72 | 76.4 | 28-11-16 | 5% |
| 90 | 25-11-16 | Tv18brdcst | 35.6 | 39.2 | 09-12-16 | 5% |
| 91 | 25-11-16 | Ncc | 74 | 80 | 29-11-16 | 5% |
| 92 | 01-12-16 | Ongc | 295 | 310 | 12-12-16 | 5% |
| 93 | 28-12-16 | Idea | 70.1 | 74.5 | 30-12-16 | 5% |
| 94 | 28-12-16 | Auro Pharma | 642 | 674 | 30-12-16 | 5% |
| 95 | 28-12-16 | deltacorp | 97 | 110 | 29-12-16 | 14% |
| | | TOTAL |   |   |   | 696% |
2016 Saga Contra Trading Equity Recommendations